19 million euros for the movie-star villa owned by Carlo Ponti, husband of Sophia Loren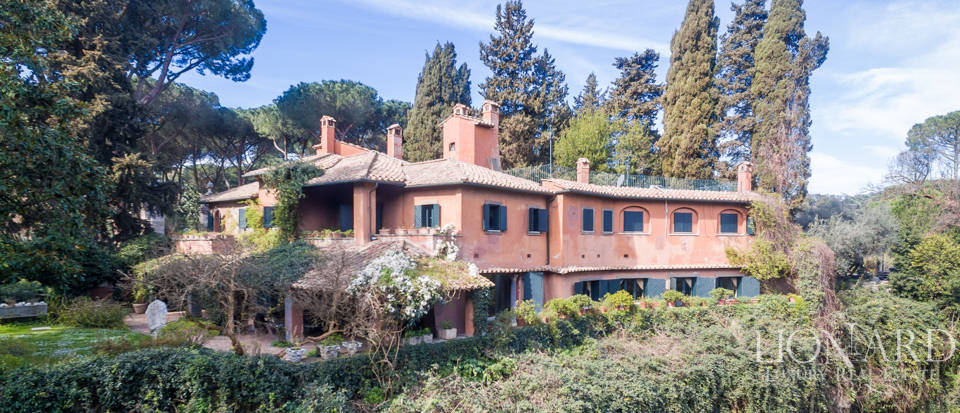 1,300 square metres of luxury with elements dating back 2,000 years
The magnificent villa once owned by Carlo Ponti, successful film producer and husband of actress Sophia Loren, is currently for sale in Rome. The villa (http://www.lionard.com/luxurious-estate-on-the-appian-way-in-rome.html) is located in the Appian Way Park, one of the Eternal City's most beautiful and prestigious areas, it is surrounded by a centuries-old park and is just ten minutes from the Colosseum.
In the 1950s, Carlo Ponti lived in this stunning estate with his first family; here, he had many guests who made the history of cinema, and whose films he produced: from directors Federico Fellini, Vittorio de Sica, Roberto Rossellini to actors like Alberto Sordi and Silvana Mangano, or Hollywood celebrities such as Antony Quinn, Kirk Douglas and the many others who spent long periods of time here.
When travelling through the Appian Way, no one could imagine what "paradise" is hidden behind those boundary walls with three doors. Carlo Pozzi had a little quirk: he would usually have his guests enter from the most modest of the three, then show them a room dating back to Roman times with walls and vaults made of huge tuff blocks, and mosaic floors depicting Medusa's head, both all existing today. Alberto Sordi, remembering when he had been a guest of Pozzi's at this villa, decided to set the initial scene of his movie "Un tassinaro a New York" here.
This estate is composed of a two-storey main villa, which measures approximately 680 sqm, and an independent outbuilding measuring 600 sqm. It is being sold by Lionard Luxury Real Estate (www.lionard.com) for 19 million euros, but the two properties may also be bought separately.
The main villa was built in the 19th century on the ruins of a basalt quarry which was employed, from 312 BC, to extract the material used to make the most famous Roman road, the Appian Way, also known as Regina Viarum (queen of roads). It was then modified several times in the 1950s and completely restored by its current owner, who bought it from Ponti's first family in the 1980s.
This property is surrounded by a centuries-old park measuring approximately 1.5 hectares, featuring tall trees and spacious lawns. The park is also home to a wonderful heated swimming pool, a garage, and some independent spare apartments.
One of the accesses leading to the main villa, the one at garden level, leads to a room with a concrete vault and ancient Roman mosaic floors. This area is also home to the room with mosaic floors depicting Medusa and tuff walls and vaults.
It is possible to access the upper storey from the main staircase or by elevator, here you can find the sleeping area, composed of five bedrooms with their own bathrooms, and a library to finish off in style with a romantic winter garden.
To download high and low resolution photos and video click on:
http://www.lionard.com/pressarea/
Lionard Luxury Real Estate
Florence, Via de' Tornabuoni, 1
Florence, Via dei Banchi, 6
Milan, Via Borgonuovo, 20
Tel. +39 055 – 0548100
e.mail: info@lionard.com
www.lionard.com
Lionard Luxury Real Estate S.p.A., founded in 2008 by Florentine entrepreneur Dimitri Corti, has quickly become a leading company in the luxury real estate sector in Italy. Lionard S.p.A currently has a portfolio of 2,383 real estate properties, with an average reference target of 5.13 million euros, and a total value of 12.24 billion euros.