George W. Bush artist ?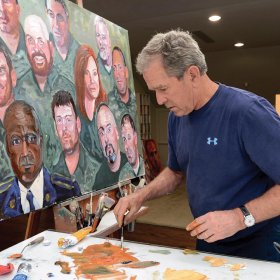 George W. Bush has been painting for several years now, but has only recently become an artist. His first paintings, mostly of world leaders, were remarkably well received, even by an art establishment that had hardly been friendly to his administration. And yet, although those early paintings were earnest and well-intentioned, they were clearly the work of an amateur who, if he hadn't been president, would not have received or deserved much attention.
But the works included in this new book are another matter. Mr. Bush has learned an astonishing amount in the intervening years—during which he has studied under three distinguished teachers—and the latest results require no special pleading. The transformation is subtle: Bush works in the same Neo-Expressionist idiom as before, but he now does so with vastly greater skill. That, in itself, is a striking development in a 70-year-old man who, into his sixties, exhibited an indifference to art that verged on hostility.
"When George and I married," Laura Bush writes in the foreword, "if someone had told me that he would become President, I would have thought, 'Well, maybe.' .  .  . But if someone said, 'One day you will be writing a foreword for a book that includes George's paintings,' I would have said, 'No way.' " Such is the wondrous improbability of his belated artistic flowering.
Portraits of Courage reproduces 66 full-color images of individual members of the armed forces, as well as a four-panel group portrait of 35 additional soldiers. Each of the paintings is accompanied by a short text in which the former president explains how he came to know the sitter. Most of these men and women, depicted as disembodied heads, have suffered some physical or psychological hardship in the course of their military service, and the proceeds from the book will go to the George W. Bush Institute's Military Service Initiative, which was set up to help veterans of post-9/11 conflicts.
In a typical entry, Bush writes thus of the broadly smiling Master Sergeant Israel Del Toro Jr.:
When I visited Brooke Army Medical Center on New Year's Day 2006, "DT" was in a medically induced coma. His Humvee had been hit by a roadside bomb in Afghanistan the month before, severely burning 80 percent of his body. His fingers and nose were pretty much gone, and the military physicians had given him a 15 percent chance of surviving.
Some of the images in this volume continue to betray those elements of amateurism that were more pronounced in Bush's earlier works: He learned to paint before he learned to draw, and his ability to depict the full human figure, especially in motion, is still underdeveloped. But such weaknesses come as no surprise. Far more interesting is the fact that many of these works break through to real power and insight. Their technique, as I have suggested, is largely a response, perhaps indirectly, to such German Expressionist portraitists as Max Beckmann, Oskar Kokoschka, and Ernst Ludwig Kirchner. And so the forehead of Sergeant First Class Jeremy Henderson is rendered in bright orange while his graying temples are green. Sergeant Daniel Caràra is a composite of purples, browns, and golds.
But in general, the former president, like Lucian Freud, is restrained in the degree of formal and chromatic distortion that he allows himself. As with all of these forebears, Bush uses thick strokes and (I believe) a palette knife to produce a lively likeness that is hardly photographic, even though he chooses to paint from photographs rather than from live sitters. But even without seeking a photographic likeness, these paintings have the unassailable ring of truth. At their best, they powerfully communicate the living, breathing essence of the man or woman in question.
According to many who have met George W. Bush—and this seems likely even to those of us who know him only by way of television—one of his most potent gifts as a politician is his interpersonal skills, his empathy, and his ability to connect to each person he encounters. It is this quality, perfectly transmitted through his art, that animates and imparts to it a rare power. Bush has an uncanny knack for painting eyes, which often challenge more inveterate portraitists. This skill seems to bring viewers into direct commun­ion with the subjects of his paintings. Almost by definition, given the injuries that first brought these men and women to the president's attention, their eyes betray some pain. Sometimes it is clear and present, at other times residual but still importunate in memory.