Human Rights Heroes to Unite for 12th Geneva Summit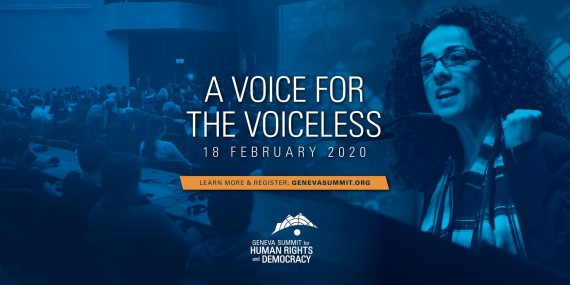 An international coalition of 25 human rights organizations announced today that it will hold its 12th annual gathering of human rights dissidents on Tuesday, February 18, 2020, at Geneva's Palexpo Convention Center.
The 2020 Geneva Summit for Human Rights and Democracy will hold its opening session at the Palais des Nations, the European headquarters of the United Nations, one week before foreign ministers gather there for the main annual session of the UN Human Rights Council.
The renowned Geneva Summit for Human Rights assembles hundreds of courageous dissidents, human rights activists, diplomats, journalists, and student leaders to shine a spotlight on urgent human rights situations that require global attention, from Venezuela to Saudi Arabia, North Korea to Zimbabwe.
The event will showcase the voices of the world's true human rights defenders, many of whom have suffered torture, as well as family members of political prisoners.
Last year's conference drew a standing-room only audience of more than 700 participants. International media coverage included more than 85 separate TV, radio and newspaper stories and interviews. The 2020 Summit is already slated to exceed last year's impact.
The remarkable lineup of speakers for 2020 includes:
Denise Ho
Denise Ho is an award-winning Hong Kong-based singer and actress known for her pro-democracy and LGBTQ rights activism. Ho was a staunch supporter of the 2014 Umbrella Movement in Hong Kong and was arrested for taking part in the nonviolent pro-democracy protests. Despite pressure from the Chinese government, Ho continues to speak out for democracy in Hong Kong and LGBTQ rights globally. She famously addressed the UN Human Rights Council in July, where she was interrupted repeatedly by China.
Nury Turkel
Nury Turkel is an attorney with Covington & Burling LLP in Washington D.C., where he specializes in litigation, government enforcement, and regulatory compliance. He is also Chair of the Board for the Uyghur Human Rights Project, a documentation-based advocacy organization that he co-founded in 2004 and for which he served as Executive Director until 2006. Mr. Turkel also served as president of the Uyghur American Association from 2004 to 2006.
Shaparak Shajarizadeh
Shaparak Shajarizadeh is a former Iranian political prisoner and activist for women's rights in Iran. She became a leader of the « Girls of Revolution Street » and White Wednesday civil disobedience movements, and was famously arrested in February 2018 for removing her headscarf in defiance of Iran's compulsory hijab laws. She was named by BBC as one of the 100 most inspiring and influential women around the world in 2018. She is currently a Senior Fellow at the Raoul Wallenberg Centre for Human Rights, a partner of the Geneva Summit.