John Luman Smith, United States Department of Justice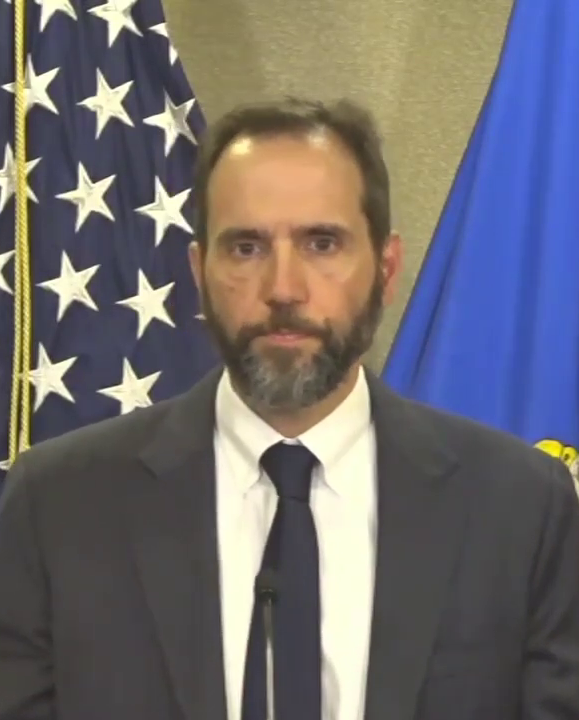 John Luman Smith (born June 5, 1969) is an American attorney who has served in the United States Department of Justice (DOJ) as an assistant United States Attorney, acting United States Attorney, and head of the department's Public Integrity Section. He was also the chief prosecutor at the Kosovo Specialist Chambers, an international tribunal at The Hague tasked with investigating and prosecuting war crimes in the Kosovo War.
In November 2022, U.S. Attorney General Merrick Garland appointed Smith an independent special counsel, responsible for overseeing two preexisting DOJ criminal investigations into former president Donald Trump: one regarding Trump's role in the January 6 U.S. Capitol attack, and the other into alleged mishandling of government records, including classified documents. The second resulted in a 37-count indictment of Trump in June 2023.
Smith was born on June 5, 1969. He grew up in Clay, New York, a suburb of Syracuse. In 1987, he graduated from Liverpool High School where he played football and baseball. He then studied political science at the State University of New York at Oneonta, graduating in 1991 with a Bachelor of Arts, summa cum laude. Smith then attended Harvard Law School, from which he graduated in 1994 with a Juris Doctor, cum laude.
After graduating from law school, Smith joined the Manhattan District Attorney's office, serving as Assistant District Attorney. He was a member of the sex crimes and domestic violence units of the DA's office. He joined the United States Attorney's Office for the Eastern District of New York in 1999. As an assistant U.S. attorney at the Brooklyn-based office, he prosecuted the police officers who brutalized and sexually assaulted Abner Louima, and led the case towards the death penalty – which was later overturned – against Ronell Wilson, who murdered two members of the New York Police Department.
From 2008 to 2010, Smith worked as Investigation Coordinator for the Office of the Prosecutor of the International Criminal Court in The Hague. In that position, he oversaw cases against government officials and militia members accused of war crimes and genocide. In 2010, Smith returned to the U.S. to become chief of the U.S. Department of Justice's Public Integrity Section (PIN). Among his first responsibilities was evaluating current investigations, and he recommended closing investigations into several members of Congress. He spent five years as chief of PIN, where he prosecuted a variety of corruption cases, including those against Virginia Governor Bob McDonnell, U.S. Representative Rick Renzi, New York Assembly Speaker Sheldon Silver, and Jeffrey Sterling, a CIA agent who shared national secrets.