La Sombreuse de Riopelle en vente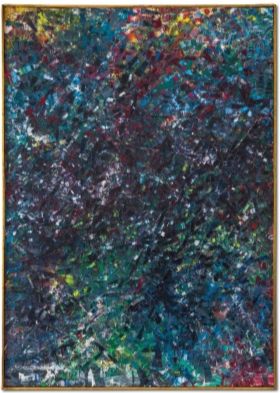 PARIS – THRUSDAY 18 NOVEMBER 2021 – FOR IMMEDIATE RELEASE
La Sombreuse,
a Riopelle masterpiece on offer in
the Post-War and Contemporary Art sale
Christie's Paris – 3 December 2021
Jean Paul Riopelle
La Sombreuse, oil on canvas (280×200,6 cm), 1954
Estimate : €2,500,000-4,000,000
"He puts himself in tune with natural laws but also with his own: he dances with nature"
James Fitzsimmons about Riopelle, January 1954
Paris – Christie's is pleased to announce the sale of La Sombreuse, a major and pivotal painting by Canadian artist Jean Paul Riopelle which has never been seen on the market. Exceptional in both scale and ambition, this large format canvas was painted in 1954, shortly after his successful participation in the collective exhibition Younger European Painters  at the Solomon R. Guggenheim Museum in New York. A dazzling symphony of colors, virtuosically applied with the artist's signature palette knife technique, this major work of the artist will be offered on 3 December during our Post-War and Contemporary Art sale, estimated at €2,500,000-4,000,000.
Etienne Sallon, Head of evening sales : "On the eve of Riopelle's centenary which will be celebrated in 2023, it is a great pleasure to offer such a seminal painting of the artist at auction. This work – by its quality and its strength – is to be placed among the most important paintings ever offered at auction and in the same category as the current world record set by Christie's in 2017".
La Sombreuse is an outstanding large-format painting dating from a pivotal moment in Jean Paul Riopelle's career. Painted in 1954, it stands among the finest works of the period, taking its place alongside major canvases including Chevreuse (Musée National d'Art Moderne, Paris), Autriche III (Musée des beaux-arts de Montréal, Quebec) and the monumental Hommage aux Nymphéas—Pavane (National Gallery of Canada, Ottawa). As such, it has been prominently exhibited in Riopelle's major touring retrospective at the Centre Georges Pompidou in 1981.
1954 was a significant time for Riopelle. The previous year, following his success at Galerie Pierre Loeb in Paris, he had been included in the Solomon R. Guggenheim Museum's exhibition Younger European Painters, alongside artists such as Alberto Burri and Pierre Soulages. The favourable critical reaction to his works—Riopelle was widely considered among the best in the exhibition—precipitated his international recognition. 1954 also saw him participate in the Venice Biennale—representing his native Canada—alongside. As Riopelle took his place on the international stage, his paintings became grander, more expansive and ever-more liberated.
Though Riopelle refused allegiance to Abstract Expressionism, his increased recognition across the Atlantic allowed him to strengthen his ties with his American colleagues. It was a dialogue already well underway. In 1952, he had organised Sam Francis' first exhibition at La Dragonne, sparking what was to become a long friendship between the two Paris-based expatriates. The present work arguably attests to the strength of this relationship. Joan Mitchell, too—another American artist drawn to France—would enter Riopelle's life the year after the present work, eventually becoming his long-term companion. More broadly, American critics began to contemplate the relationship between Riopelle's work and that of Jackson Pollock, comparing and contrasting their techniques.
The notion of 'dancing with nature' is certainly pertinent in relation to La Sombreuse. While many of Riopelle's canvases are deeply evocative of elemental phenomena, the artist maintained that his works were intended to embody rather than reflect the natural world. It was an attitude shared by Mitchell. While both artists would channel the influence of Claude Monet in this regard, Riopelle was also inspired by his early alliance with Surrealism and associated ideas of painterly automatism.
"The painting must work itself out" :  a Riopelle statement which magnificently embodied by La Sombreuse