McGill honors iconic human rights lawyer Irwin Cotler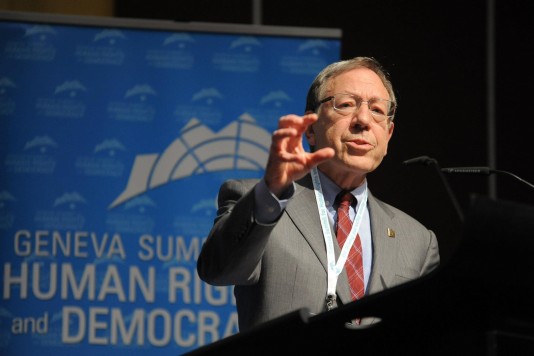 Irwin Cotler has played a key role over the past decade at UN Watch's annual Geneva Summit for Human Rights, a platform for dissidents and families of political prisoners.
UN Watch extends heartfelt congratulations to Professor Irwin Cotler, a devoted member of our Board of Directors, on the news that he will receive the top honor of McGill University, the degree of Doctor of Laws, Honoris Causa.
« Professor Cotler embodies the values of law, truth and peace, » said Hillel Neuer, the executive director of the Geneva-based human rights organization.
« His tireless advocacy for human rights dissidents worldwide; his passion for justice and the cause of peace; and his infectious idealism, sincerity, and integrity have inspired so many to help make the world a better place. »