McGill U. awards UN Watch director honorary doctorate for human rights work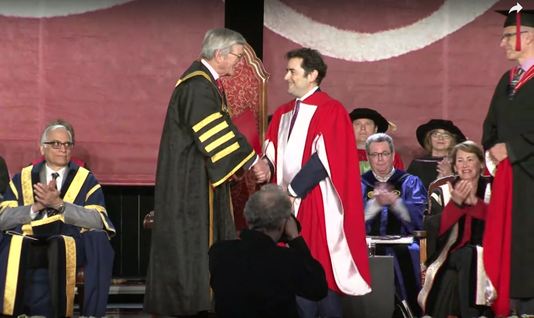 McGill University awarded the degree of Doctor of Laws, honoris causa, to Hillel Neuer, as Chancellor Michael Meighen declared that the executive director of UN Watch would receive « the highest recognition that it is within the power of this university to grant. »
« He is a passionate advocate for human rights, fighting tirelessly against discrimination, torture, and injustice, » said McGill Principal and Vice-Chancellor Suzanne Fortier, before one thousand graduates, professors and guests assembled at the June 5th convocation.
« Mr. Neuer has put his intelligence at the service of society to nurture positive progress. »
Human rights activists, dissidents, and former political prisoners from around the world, together with other public figures, applauded McGill's award; see quotes below.
Upon receving the honorary degree, Neuer delivered the convocation address.
"UN Watch is proud of this honor for our esteemed executive director, and of the recognition by McGill University of the important human rights work of UN Watch," said Alfred H. Moses, chair of the organization.
The citation was read out at the convocation by the Dean of the Faculty of Arts, Prof. Antonia Maioni:
« Mr. Chancellor, born and raised in Montreal, Hillel Neuer holds a B.A. from Concordia University, a B.C.L. and LL.B. from our Faculty of Law, and an LL.M. in comparative constitutional law from the Hebrew University in Jerusalem.
An international lawyer and writer, he is the executive director of UN Watch, a human rights NGO that supports the just and apolitical application of the values and principles of the United Nations Charter.
Prior to joining UN Watch, Hillel served as a law clerk for Justice Itzhak Zamir at the Supreme Court of Israel. It was while practicing commercial and civil rights litigation at the law firm of Paul, Weiss, Rifkind, Wharton & Garrison LLP, that he first became known as an active human rights defender at the international level.
Described as someone who walks softly, but carries a big microphone, Mr. Neuer regularly testifies before the United Nations Human Rights Council, on behalf of victims in Darfur, China, Russia, and Venezuela, and the cause of peace in the Middle East.
He has been an innovator, creating global platforms for courageous dissidents and champions of human rights from around the world.
As a founder and chair of the annual Geneva Summit for Human Rights and Democracy, he leads a cross-regional coalition of 25 non-governmental organizations that, over the last decade, have placed an international spotlight on urgent human rights situations.
He has, in a word, been instrumental in giving a voice to the voiceless.
When the city of Chicago, Illinois, declared September 15, 2016 to be « Hillel Neuer Day, » the city council adopted a resolution that cited his role as « one of the world's foremost human rights advocates. »
The council spoke of his contribution to « promote peace, justice, and human rights around the world, » and described him as someone whose « hard work, sacrifice, and dedication serve as an example to all. »
Of his tireless, passionate quest to expose injustice, Hillel Neuer once said that certain regimes may not like what he does, but the human rights victims do. And this, to him, is what is most important.
Mr. Chancellor, I present to you Mr. Hillel Neuer, so that you may confer upon him the degree of Doctor of Laws, honoris causa. »