New International Bar Association president for 2019-2020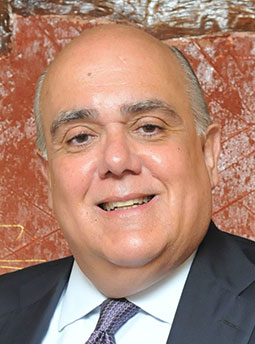 Horacio Bernardes Neto
President
Horacio Bernardes Neto is the President of the International Bar Association (IBA). His tenure is for the calendar years of 2019 and 2020.
Mr Bernardes Neto has been a member of the IBA since 1982. He sits on the IBA Management Board and has held the posts of IBA Vice-President (2017–2018); IBA Secretary-General (2015–2016); and Chair of the IBA Bar Issues Commission (2013–2014).
He is a senior partner of Motta Fernandes Advogados (MFA), which is continually recognised as a leading law firm in Brazil by specialised vehicles. Before joining MFA, Mr Bernardes Neto was a founding partner of Xavier, Bernardes, Bragança – Sociedade de Advogados (1995–2011) and a partner at Bomchil, Castro, Goodrich, Claro, Arosemena and Associates, with Dr Graf von der Goltz, Dr Wessing & Partners, in Düsseldorf, Germany (1980 –1983) and London (1983). His main areas of expertise are Mergers and Acquisitions, General Corporate Law, Private Equity, Antitrust, Contracts and Arbitration.
Mr Bernardes Neto has taken leadership roles in global pro bono work and is a founding member of the Pro Bono Institute. He was also a member of the Drafting Committee of the Pro Bono Declaration for the Americas that was facilitated by the Cyrus R Vance Center for International Justice of the New York City Bar.
Accolades attributed to Mr Bernardes Neto include:
Chambers and Partners' Chamber Latin Guide describe him as having 'recognised strength in all areas of corporate law with an additional background in antitrust and private equity matters' and as being 'well versed in arbitration proceedings'.
Chambers and Partners' Global Guide (2016) includes from sources: 'particular praise for his co-ordinating abilities'.
Who's Who Legal (2016) recommendation for the practice areas of Corporate, Corporate Governance and Mergers and Acquisitions.
Mr Bernardes Neto is a graduate of the University of São Paulo Law School (Bachelor of Laws, 1977). He also holds a Post-Graduate degree from the Institute of International Commercial Law, Universität zu Köln, Germany (1982). He is admitted in Brazil and is also a member of the DAV – German Bar Association. Mr Bernardes Neto also holds a degree in Pedagogy from the Oswaldo Cruz University de São Paulo (1977).
Past and present officer positions of Mr Bernardes Neto in a number of legal organisations include: former Council member, Brazilian Bar Association, São Paulo Chapter – OAB/SP (2000–2015); former President (1994–1995) and present Honorary President of AIJA – Association Internationale des Jeunes Avocats; former President (2003–2006) and presently Executive Officer of CESA – Centre of Studies of the Brazilian Law Firms; Legal Council member, CONJUR – FIESP – Federação das Indústrias de São Paulo; Council member, ACSP – Associação Comercial do Estado de São Paulo; former Council member, ESA – Escola Superior de Advocacia; and Council member of the São Paulo State Pinacothèque.
Membership of a number of legal organisations include: the International Relations Commission of the Brazilian Bar Association Federal Council, IASP – São Paulo Lawyers Institute, AASP – São Paulo Lawyers Association, DBJV – Brazil-Germany Jurists Association, and SEJUBRA – Brazil-Germany Legal Studies Society.
Mr Bernardes Neto is fluent in Portuguese, English, German, French, Spanish and Italian.