Osler receives Mérite du français award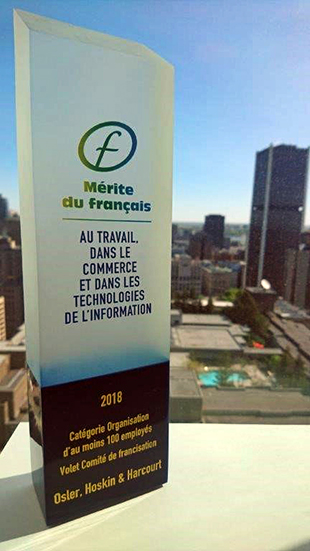 Dear clients and friends,
We are pleased to announce that on May 17 Osler won a Mérite du français 2018 award at a gala hosted by the Office québécois de la langue française. Presented in collaboration with the ministère de l'Immigration, de la Diversité et de l'Inclusion, the Mérite du français awards recognize organizations for their accomplishments in promoting the use of high-quality French communications in the workplace and the communities they serve.
This is the second time that we have received this award and it holds significant importance for us as it acknowledges our ongoing commitment to the French language and dedication to serving our clients and community in Québec. Osler's Montréal office previously won a Mérite du français in 2013, in addition to receiving the Mercuriades "Mérite du français" that same year.
We are proud of the collective efforts of the members of our Montréal office and their work in distinguishing our firm among our peers.
Sincerely,
Sandra Abitan
Montréal Managing Partner