Stikeman Elliott's Montréal Office Welcomes Three New Partners!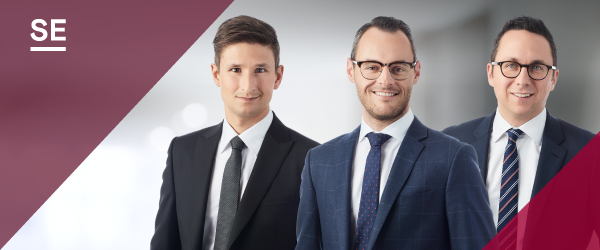 On January 1st, Maxime Jacquin, Éric Lévesque and Aniko Pelland joined the partnership. Their expertise and strong leadership have been recognized by their peers and clients alike.
Having been with Stikeman Elliott ever since they were students, they embody the firm's core values. All three are also involved in the firm's mentorship program and are members of the Student and Stagiaires Committee.
Maxime Jacquin is a member of the Corporate Group. His practice focuses primarily on banking with a strong focus on acquisition financing and infrastructure and energy project financing. He regularly represents both lenders and borrowers in complex domestic and cross-border financings.
Éric Lévesque is a member of the Tax Group. He advises clients on Canadian tax matters, often in the context of large complex transactions and investments. Éric has developed an expertise in cross-border tax matters. His creativeness and solution-oriented approach are valued by clients and peers.
Aniko Pelland is a member of the Corporate Group. His practice focuses on mergers and acquisitions, corporate finance and securities law. Aniko regularly represents both private and public companies, private equity funds, institutional investors and underwriters.
We wish them much success in this new chapter!