Thursday's, a Crescent St. institution, abruptly shuts down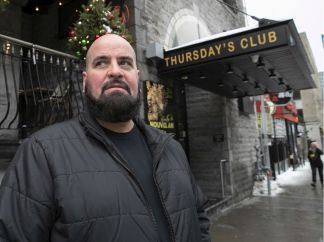 The restaurant's owner, Chris Ann Nakis, said its former owner, Bernard Ragueneau, is taking back the building as of Jan. 7.
Just one day after ushering in the New Year with scores of customers, Thursday's Bar and Bistro abruptly closed its doors  —  leaving dozens of longtime employees in limbo.
Several of the restaurant's employees have since taken to social media to express shock and feelings of betrayal over the way ownership handled the situation, with at least one threatening to bring the issue to Quebec's labour board.
Owner Chris-Ann Nakis, who took over the restaurant a little more than a year ago, sent a short message to employees around 10 a.m. on New Year's Day, only hours after many had worked through the night.
"The building is officially closed as of this morning," the message said. "All salaries will be paid in the usual fashion."
Thursday's had been open on Crescent St. for nearly 50 years. It was founded by Montreal businessman Bernard Ragueneau in 1973 and re-opened under his son in 2013 after a short closure.
In a brief interview with the Montreal Gazette on Thursday, Nakis said the Ragueneau family is taking back the building as of Jan. 7.
"I couldn't come to an arrangement to buy the whole building the way I had wanted to," Nakis said while leaving the restaurant.
"Something tells me it's going to be open very, very quickly after (Jan. 7), so I don't think anybody has anything to worry about," she added.
Asked if that meant the restaurant will soon re-open under the Thursday's banner, Nakis said she doesn't know.
The Ragueneau family did not return a request for comment on this story. A note posted to the restaurant's doors says only that the "building" will re-open on Jan. 7th.
One of the restaurant's former bartenders, Chloé Ratté, wrote a lengthy post on Facebook criticizing the way employees learned of the change. The note was shared by roughly 900 people as of Thursday evening, including many who work in the industry in Montreal.
"A few dryly written words to announce the end of an era," Ratté wrote about the message employees received.
"You failed us, Ms. Nakis," she continued, describing Nakis as an absentee owner who never took the time to meet the staff. "Too bad this entrepreneurial lesson will have cost the salaries of employees, some of whom have worked for the establishment for more than thirty years."
A doorman who's worked for Thursday's for the last five years — and held different jobs on Crescent St. for more than 30 years — defended Nakis but agreed some were surprised by the sudden closure.
"To some people it's a shock, they didn't expect anything like this to happen overnight," Peter David said outside the restaurant. "You're partying on the 31st and the next day you get an email saying you're not needed anymore."
Nakis and her family own other businesses on Crescent St. in addition to being co-owners of Schwartz's Deli on St-Laurent Blvd.
Asked about how she handled the situation, Nakis would not comment on how employees learned of the change. Pushed on whether they deserved more of a warning, she said: "this is a restaurant, this is not an IBM."
The message Nakis sent employees said the decision came after "much deliberation" and was taken with a "heavy heart." It also informed staff that Ragueneau will be taking over the building next week, but didn't specify what, if anything, that means for their jobs.
Nakis said she will be trying to place some of the employees in "other places that I know" and has already found new jobs for some.
As for what went wrong over the last year, she said the "damage" had already been done to the business before she took over.
"I think I did the best I could with what I had," she said. "We couldn't make a go of it. We tried hard but hard wasn't good enough."
Source: The Gazette