UN Watch's Shadow Rights Summit Spotlights Iran, Venezuela, Turkey & more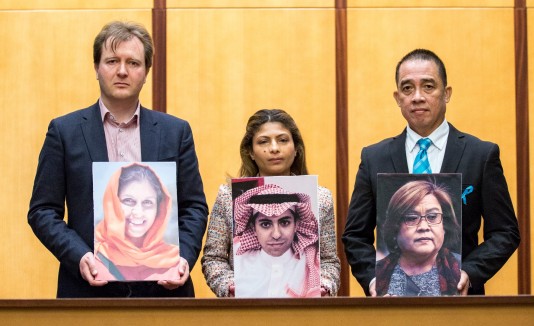 Above: Richard Ratcliffe, husband of Nazanin Zaghari-Ratcliffe, political prisoner in Iran; Ensaf Haidar, wife of political prisoner Raif Badawi in Saudi Arabia; Vicente de Lima II, brother of Senator Leila de Lima, political prisoner in the Philippines.
The wife and children of Saudi political prisoner Raif Badawi joined families of political prisoners from Iran and the Philippines this week, together with former political prisoners from Turkey, China, Vietnam and other prominent dissidents, to address the 11th annual Geneva Summit for Human Rights and Democracy.

Organized by a cross-regional coalition of 25 human rights groups led by UN Watch, the dissidents' testimonies focused on issues that Geneva's 47-nation UN Human Rights Council—under pressure by powerful dictatorships who sit as members—failed to included on its agenda, or only marginally.

Opening at the United Nations European headquarters on Monday, followed by a private meeting with diplomats hosted by Canada, the summit held its main event on Tuesday before 800 diplomats, activists and students, gathered from acoss Switzerland, Europe and many other different countries.

Tibetan filmmaker Dondhup Wangchen received the 2018 Courage Award, and Nimco Ali, a Somali-British campaigner against female genital mutilation, received the 2019 International Women's Rights Award.
Nimco Ali — Advocate for women and girls at risk for female genital mutilation (FGM) and recipient of yesterday's International Women's Rights Award: « Between now and 2030, there are 70 million girls who are at risk of FGM. That's 70 million girls that could be the future of Africa, that could be Africa's saving grace."

Dhondup Wangchen — Tibetan filmmaker and activist, jailed for six years in Chinese prison, recipient of yesterday's Courage Award: "The moment a Tibetan person is labeled, he or she is just a dead body… Without the support I received from the international community, I would be long dead." 

Diego Arria — Advocate for Venezuelan human rights, former Ambassador to the UN and President of the Security Council: "When the Security Council meets to consider resolutions, its members read them on clean sheets—lives that do not have blood, that do not have tears."

Felix Maradiaga — Nicaraguan opposition leader, targeted with false criminal charges: "In little more than ten months, more than 82,000 Nicaraguans have been exiled, more than 2,000 political prisoners have passed through the prisons, of which more than 650 are still under arbitrary arrest. They still remain in jail…"

Ensaf Haidar — Human rights activist, wife of Saudi political prisoner Raif Badawi, on her husband's arrest: « Because his words came out of his heart, out of his convictions of the possibility of peaceful change, his words were terrifying for those who benefit from the status quo. »

Najwa Badawi — Daughter of Saudi political prisoner Raif Badawi: "Why are you in prison Daddy? It is the question that haunts me every day. I know that you are not a criminal or a mugger; you are a peaceful person who loves others and wishes them goodness. I will not stop until you hold me in your warm arms and wipe my tears with you loving hands."

Richard Ratcliffe — Husband of Nazanin Zaghari-Ratcliffe, British-Iranian citizen imprisoned in Iran on spurious charges: "Three years ago, Nazanin was arrested at the airport on a visit to Iran with our then 21-month old daughter. She was taken to a secret court and charged with secret charges. At her trial she was not allowed to speak. Nazanin spent a total of eight and a half months in solitary confinement which had all sorts of consequences — psychological and others in health terms. My wife is held by Iran as leverage, as a bargaining chip, and she's not the only one."

Vicente de Lima II — Brother of Philippines Senator Leila de Lima, currently imprisoned for criticizing President Duterte's Drug War: "Given Duterte's grudge, and to warn any opponent of his authoritarian undertakings, almost the entire apparatus of government has been working overdrive to discredit, vilify, detain and 'iron grip' my sister." 

Ketty Nivyabandi — Poet and exiled Burundian democracy activist, led a movement of women-only protest: "Burundi's regime has killed, raped and tortured. Our security forces have free reign to arrest anyone they see. Today I am a refugee because challenging the regime in Burundi is equivalent to a death sentence." 

Nurcan Baysal — Award-winning Kurdish journalist and activist, recently detained by Turkey: "I have been threatened and harassed, intimidated on social media, and security forces have unlawfully banned some of my articles. There have been charges laid against me because of my articles… They broke down our door, and 20 masked and heavily armed special operation officers stormed my home. With all guns pointed at me, the head of the squad asked if I was Nurcan Baysal. They said they had a warrant to search my home… They violently entered my home knowing I had two small children inside. »

Abdalaziz Alhamza — Syrian citizen journalist who reported on Syrian war news and human rights abuses by the Islamic state: "The local media was talking about what would happen to the earth if the sun would disappear while Syrians were dying in the street, so I decided to do something. The next day I went to the street with my old Nokia phone. I went back home and uploaded the video and I noticed that my video went viral. In that moment I learned abo ut something called citizen journalism… I started to use that to tell the world about what was going on in Syria and that was a reason for the Syrian regime to arrest me. I was tortured, but I was lucky enough to be released."

Juan Carlos Gutierrez — President of the World Jurist Association's Human Rights Institute, on the imprisonment of Cuban dissident Dr. Eduardo Cardet: "It is unbearable that there is an empty chair in a family dining room, an empty chair at a doctor's office, and an empty chair in the Cuban opposition political leadership. But how many empty chairs have been seen throughout 60 years, and how many more will exist if we do not act." 

Yang Jianli, President of Initiatives for China, former political prisoner: "When I was detained in solitary confinement, when I was blindfolded from one prison to another, when my mental condition deteriorated beneath isolation, repeated interrogations and ongoing psychological and physical torture, I could not but help think of the worst… But as soon as I knew I was not alone, from that moment, I could stand up to defend my rights, and defend the rights of other inmates."

Nguyen Van Dai — Vietnamese human rights lawyer, just released from prison: "Discussing press freedoms was seen as opposing state media and conducting propaganda against the state. This resulted in me being sentenced to 4 years in prison and 4 years house arrest for conducting propaganda against the state." 

Elham Manea — Professor at the University of Zurich: "We can change by insisting that these are universal values and these universal values apply in Yemen just as they apply in Switzerland. »