WMU-COOLEY LAW SCHOOL INNOCENCE PROJECT EARNS RELEASE OF KENNETH NIXON AFTER MORE THAN 15 YEARS IN PRISON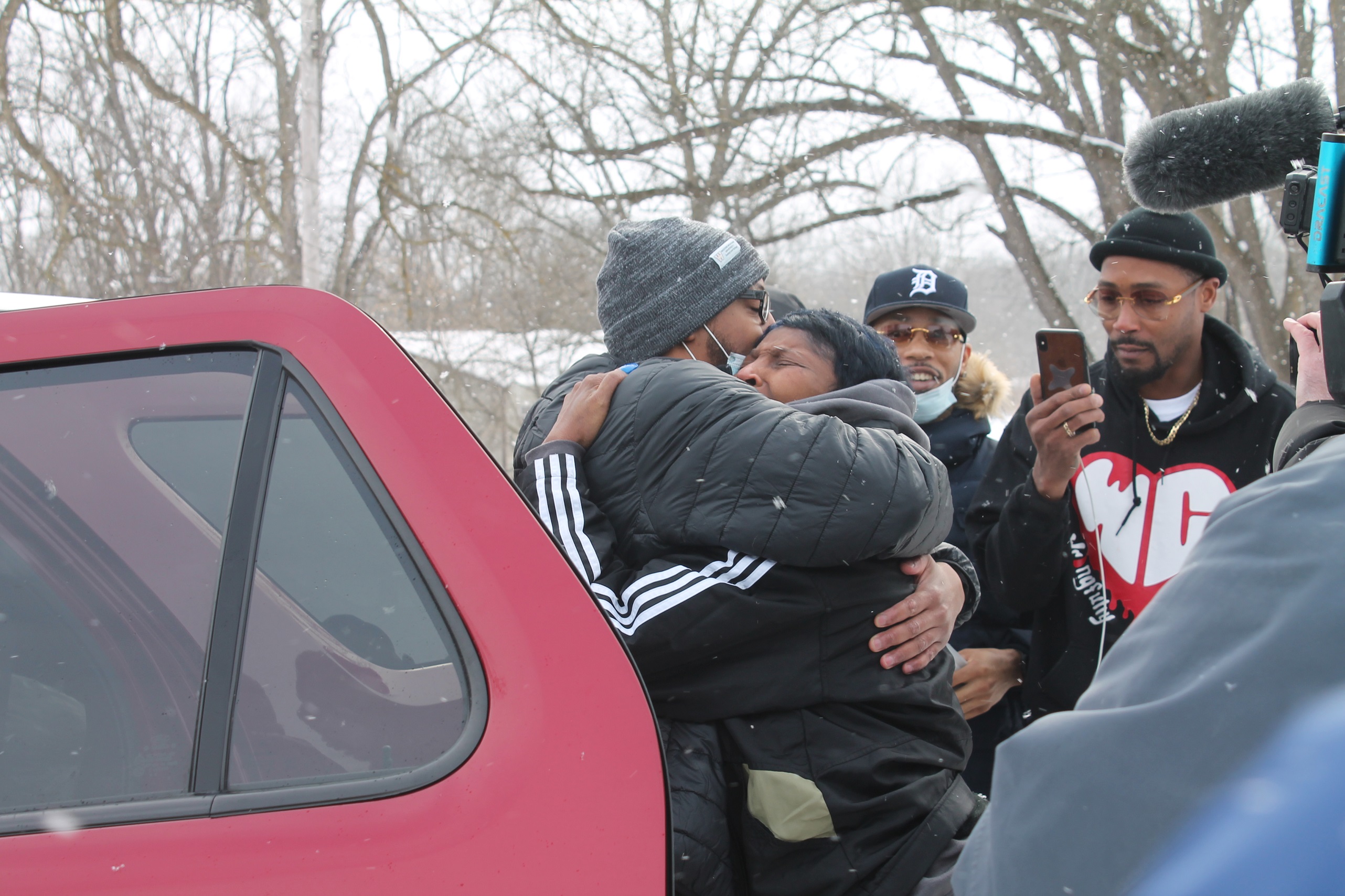 Photo: Kenneth Nixon hugs his mother after being released from prison after 16 years.
Today, Wayne County Judge Bruce Morrow set aside the conviction of Mr. Kenneth Nixon. Nixon was wrongfully convicted of murder, attempted murder and arson in 2005.
Assistant Prosecutor Valerie Newman, Director of the Wayne County Prosecutor Office's Conviction Integrity Unit, moved to have Nixon's conviction vacated and requested dismissal of all charges. Nixon is represented by the Western Michigan University Cooley Law School Innocence Project (WMU-Cooley Innocence Project).
"Mr. Nixon has worked tirelessly over the last 15 years to regain his freedom. Thanks to Mr. Nixon's persistence and the collaboration between the WMU-Cooley Innocence Project and the Wayne County Conviction Integrity Unit, Mr. Nixon will finally be reunited with his loved ones," said his attorney, David Williams.
On May 19, 2005, a Molotov cocktail was thrown into a home on Charleston street in Detroit, causing the deaths of a 10-year-old boy and a 1-year-old girl. The mother and other children, including her 13-year-old son were also in the home and sustained injuries.
Nixon and his then girlfriend, Latoya Caulford, were charged with two counts of felony murder, one count of arson and four counts of attempted murder. Caulford, accused of driving Nixon to the Charleston house, was acquitted after a separate jury trial on Sept. 21, 2005. But Nixon was convicted on all charges.
The main issue at trial was the identification of the person who threw the Molotov cocktail. Nixon always denied his involvement in the crime and presented evidence that he was with Caulford at her home during the time of the fire. Two alibi witnesses were presented to support his defense, but Caulford could not testify due to her own pending charges. The identification of Nixon was based upon statements made by the 13-year-old witness who was at the home at time of the fire, and the testimony of a jailhouse informant who was housed at the same jail as Nixon after his arrest. On Aug. 29, 2005, the informant received special consideration in an unrelated case. On Aug. 30, the informant gave a statement to police incriminating Nixon. At trial, the informant testified that he did not see news reports of the fire. But, in 2018, the informant was interviewed by the Medill Justice Project and the informant admitted that he had seen news coverage of the case before speaking to Nixon.
The WMU-Cooley Innocence Project worked with the Wayne County Conviction Integrity Unit to DNA test the Molotov cocktail used to start the fire. Unfortunately, no DNA results were obtained. However, there was other new evidence that supported Nixon's innocence and the Cooley team requested the Wayne County Conviction Integrity Unit to reinvestigate the case.  Based on their own investigation and findings, the Wayne County Conviction Integrity Unit requested a new trial and the dismissal of all charges.
The WMU-Cooley Innocence Project is the only post-conviction DNA innocence organization in the state. Since its inception, the office has screened over 5,800 cases and is responsible for the exoneration of five men: Kenneth Wyniemko (2003), Nathaniel Hatchett (2008), and Wayne County residents Donya Davis (2014) LeDura Watkins (2017) and Kenneth Nixon. This past year, the WMU-Cooley Innocence Project supported the exonerations of Ramon Ward and Lacino Hamilton by contributing its DNA expertise and grant resources to obtain testing.
In 2018, the Wayne County Prosecutor's Office and the WMU-Cooley Innocence Project received a $451,238 Bloodsworth grant from the Department of Justice to screen claims of innocence and conduct DNA testing of material evidence in appropriate cases. Since 2018, the two offices have been partnering on forensic casework.
At the end of the hearing, after learning that 28 cases have resulted in exonerations since Wayne County Conviction Integrity Unit was formed, the Hon. Bruce Morrow asked, "If there were more schools like Cooley that participated in the innocence project, how many more individuals could be exonerated?"
The WMU-Cooley Innocence Project has a similar grant partnership with the Michigan Attorney General Office, Conviction Integrity Unit, assisting its office with the evaluation of innocence claims.
Established in 2001, the WMU-Cooley Innocence Project provided legal assistance to persons who are claiming factual innocence. Their work focuses on obtaining post-conviction DNA testing and challenging unreliable forensic practices.
About Western Michigan University Cooley Law School: WMU-Cooley Law School resulted from the 2014 affiliation that combined WMU's status as a nationally-ranked, public, comprehensive research university with the commitment to practical legal education of an independent, non-profit, national law school. WMU-Cooley is accredited by both the American Bar Association and the Higher Learning Commission of the North Central Association of Colleges and Schools. Since the law school's founding in 1972, WMU-Cooley has provided more than 20,000 graduates with the practical skills necessary for a seamless transition from academia to the real world.  WMU-Cooley enrolls classes year-round at its Michigan and Florida campuses. Western and WMU-Cooley Law School operate as independent institutions with their own governance structure and separate fiduciary responsibilities.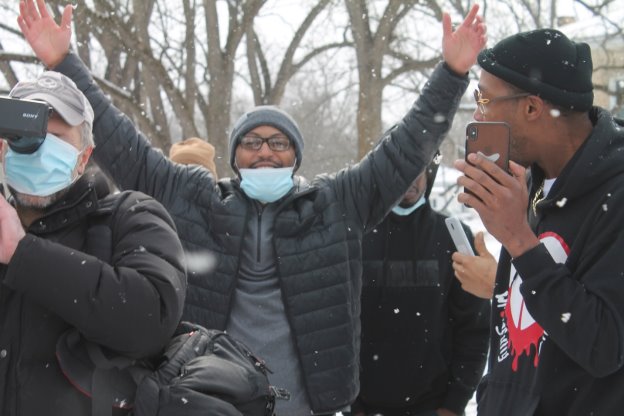 Kenneth Nixon after being released from the Michigan Reformatory in Ionia, Michigan.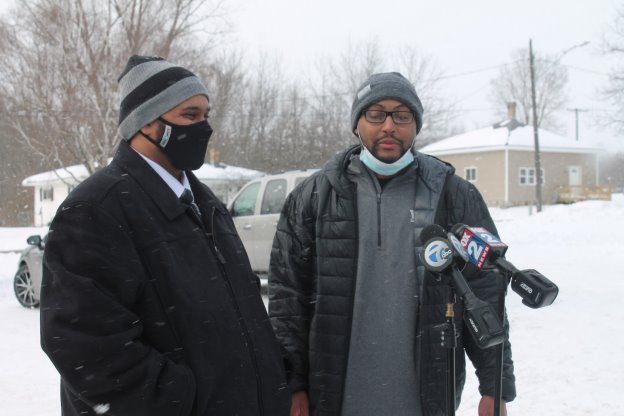 WMU-Cooley Innocence Project Staff Attorney David Williams (left) with Kenneth Nixon during a media briefing. Nixon was released after being wrongfully convicted of murder, attempted murder and arson in 2005.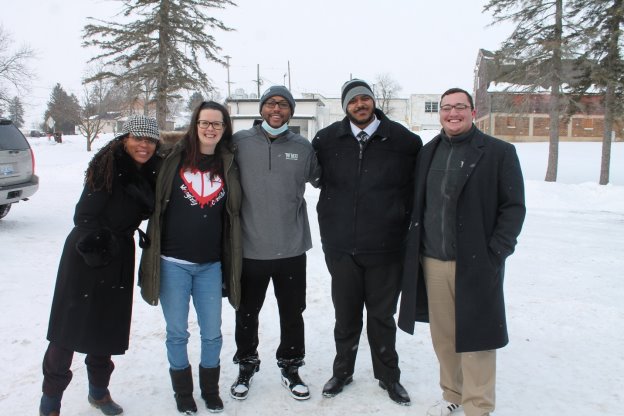 Kenneth Nixon (center) with WMU-Cooley Innocence Project team members. Pictured (left-right) Tracey Brame, Innocence Project director; Lori Montgomery; Nixon; David Williams, staff attorney; Matthew Smith, team member.